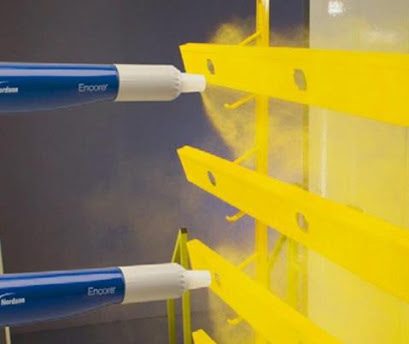 Due to its versatility and environmentally friendly application, powder coating substrates have become more and more popular in recent years. As customers continue to demand high-end finishes, more companies like Benise-Dowling are stepping up to meet their requests. The powder coating application cures quicker which gives the substrate extended durability for color and gloss retention. In regards to the environment, powder coating emits nearly zero VOC's and the minimal overspray is reclaimed for future use. This technique that we incorporate at our company basically eliminates all waste versus liquid waste that has challenges to dispose of.
This typical process has the substrates washed, electrostatically applied, and then cured in an oven resulting in a finish that typically has a smoother finish and is more durable than a liquid application.
Powder coating can be used on a variety of substrates. Our company coats many of the known brands that require a finish that the end-user desires. We coat automotive parts, recreational vehicle parts, gun safes, outdoor furniture, gutter guards, and Yeti cups to give a sampling of what we do and what can be coated.
Advantages of Powder Coatings:
100% Environmentally Friendly due to Zero VOC's
The finish is 100% cured once it leaves the oven, which is a greatly reduced turnaround time and means little to no damage during transport
Applied in a controlled atmosphere that allows for superior quality control
Most economical, longest-lasting, and best color retention available on the market
More resistant to scratching, fading, chipping, or wearing than any other finish
High Volume output for large orders- Up to 360,000 parts per day output
Higher film builders per application than liquid paint
Minimal Waste compared to liquid paints- Up to 98% recovery of overspray
Uniformity during the application process- No runs or sags
Flexibility- Up to 180 degrees bending after application